Driving route 66 takes approximately 2-3 weeks. Route 66 spans over 2,400 miles from chicago to santa monica, with numerous attractions, museums, and landmarks to explore along the way.
Route 66 is not just a highway; it is a symbol of america. Originally designed to connect rural and urban communities, route 66 became known as the "main street of america" and transformed into a cultural icon. Today, the iconic route has been replaced by modern freeways and interstates, but it continues to attract visitors from around the world who want to experience a piece of americana.
Driving route 66 offers a nostalgic journey through time and history, showcasing some of the best roadside attractions, diners, motels, and landmarks that america has to offer. From the cadillac ranch in texas to the grand canyon in arizona, route 66 is a must-see for any traveler seeking a unique and unforgettable road trip experience.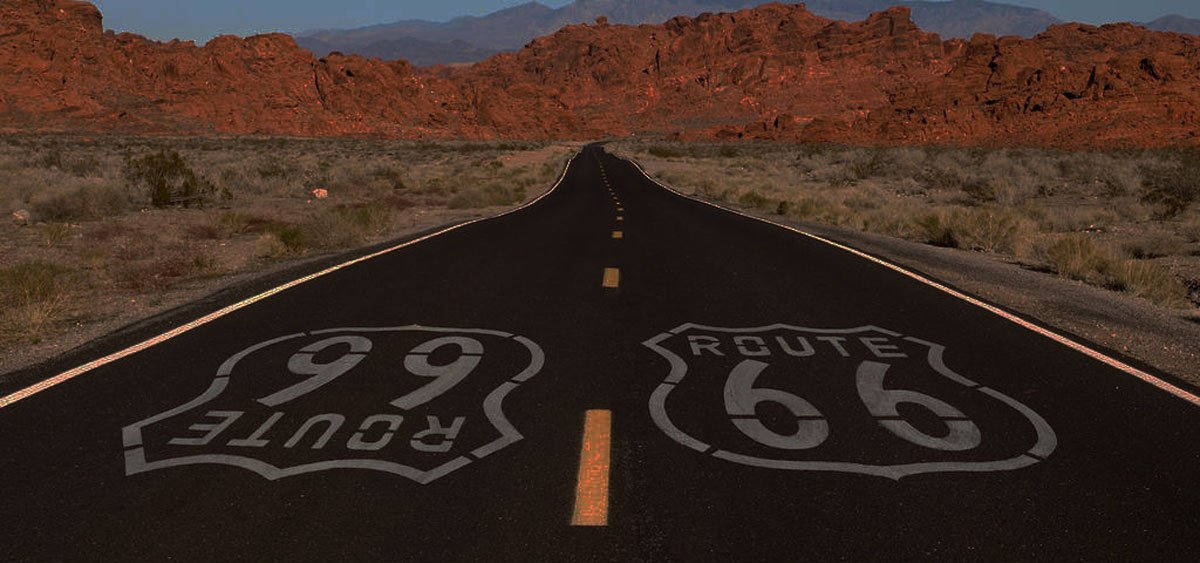 Credit: roadtrippers.com
What Is Route 66 And Why Should You Take A Road Trip On It?
Route 66 is known as the 'main street of america' and is one of the most iconic routes in the united states. It spans over 2,400 miles from chicago, illinois, to santa monica, california, passing through eight states in total.
The route was established in 1926 and became a symbol of hope and opportunities during the great depression.
Driving on route 66 is not just about following a map, but it is an experience that cannot be replicated by any other road trip in the united states. Here's why:
A Brief History Of Route 66 And Its Significance In American Culture
Route 66 was one of the first highways in america and became a vital road to transport goods and people between the east and west coasts.
The highway achieved legendary status during the great depression, creating jobs and opportunities for the people living along the route.
During the '50s and '60s, route 66 sparkled with neon signs, motels, gas stations and diners. It epitomized the american road trip experience.
The highway was decommissioned in 1985, but it remains a significant part of american folklore, immortalized in song, television shows, and movies.
How Traveling On Route 66 Provides A Unique Experience That Can'T Be Replicated By Other Road Trips
Route 66 is not just a journey; it offers an insight into the past and the quirky americana culture that defined the highway.
Driving on route 66 allows you to explore small towns, ghost towns, and abandoned gas stations that have remained frozen in time, reminding us of the golden age of the american road trip.
The highway offers an adventure with panoramic views of desert landscapes, mountains, and beautiful coastline, all in one trip.
You will experience unique attractions such as the cadillac ranch, the blue whale of catoosa, the wigwam motel, and many more.
The people you will meet on the journey are friendly, open-hearted, and ready to share their stories of the highway and its history.
Driving on route 66 is a once-in-a-lifetime experience. It allows you to travel back in time and explore the collective history, culture, and traditions of the united states. So, pack your bags, fill up the tank, and hit the road to create your very own adventure on the main street of america!
Factors To Consider When Planning Your Route 66 Road Trip Duration
Understanding The Length And Distance Of Route 66, From Chicago To Santa Monica
Route 66 passes through eight states, covering a distance of 2448 miles between chicago in illinois and santa monica in california. It will take you a minimum of two weeks to complete the entire journey and see everything route 66 has to offer.
However, it is important to note that the actual duration of the trip will depend on a variety of factors.
Determining Your Travel Style, Budget, And Preferences For Accommodations And Activities
When planning your route 66 road trip, there are several factors to consider that will affect your trip duration. First, consider your travel style and budget. Are you planning to take the trip at a leisurely pace, or are you aiming to complete it quickly?
Do you want to stay in luxury hotels or campgrounds? Your accommodation preferences will also impact your trip duration, as hotels and campgrounds might impact your daily mileages.
Next, consider your preferred activities and attractions along the way. Each state has a variety of national parks, museums, and landmarks to explore, so if you intend to visit all the must-see attractions, your trip may take a bit longer.
The Impact Of Seasons And Weather On Your Trip Duration
Wintertime offers more difficult driving conditions, particularly in the northern parts of the route. Snow, ice, and sleet may make some roads impassable and slow down your trip, whereas summer can bring heat and humidity that may affect your stamina and cause dehydration.
Spring and fall are more moderate times to travel, and some intermediate months could work for you.
Weather will play an important part in how long it takes to travel route 66. Keep up-to-date with local, state, and federal information regarding weather and weather-related road closures. If weather patterns threaten to slow you down, consider taking a detour or skipping on a segment of the drive.
Recommended Route 66 Road Trip Durations
A Breakdown Of The Different Suggested Road Trip Durations
Route 66 is a must-visit destination for anyone who wants to explore the united states by car. The iconic road spans over 2,400 miles, covers eight states, and offers stunning views of the country's diverse landscapes. When planning your road trip, the first thing to consider is how long you want to spend on the road.
Here is a breakdown of the different suggested road trip durations:
1 week: This route 66 road trip duration is ideal for those who want to taste the flavor of the route without delving too deep into its sights.
2 weeks: For people who want to take their time exploring the various attractions and enjoying the local culture, a 2 weeks road trip would be perfect.
3 weeks: This route 66 road trip duration is optimal for visitors who want to explore the route leisurely, take scenic detours or participate in outdoor adventures.
Factors To Help You Decide Which Duration Is Best For You
When deciding on the best route 66 road trip duration, several factors come into play, including:
Your budget: Longer trips would require more funds to cover expenses such as fuel, food, accommodation, and attractions.
Your schedule: People who have limited time to take off from work would have to settle for a shorter route 66 experience.
Your interests: Some people may want to explore the natural beauty along route 66, while others might focus on experiencing the culture, history, or food specialties of certain regions.
Suggestions For Adjusting Recommended Durations Based On Your Travel Style, Budget, And Preferences
While the above recommendations provide a general guideline, several ways can personalize your route 66 road trip duration, starting with:
Adding more time to the original recommended duration: If you don't want to compromise on some must-visit locations or experience an adventure that requires more time, it's okay to extend your route 66 road trip.
Shortening the duration: For people with a tight budget or limited schedule, a shorter version of the route 66 road trip can still be enjoyable, covering the highlights without delving too much into each location.
Opting for a themed route 66 road trip: A dramatic way to personalize your route 66 road trip is to adopt a themed itinerary, such as a foodless route 66 culinary trip, or a nature-based route 66 adventure.
The recommended route 66 road trip duration depends on various factors such as budget, schedule, and interests. You need to assess your travel style and preferences to choose the best duration for your trip. Remember, regardless of how long or short your route 66 road trip is, you're sure to create unforgettable memories.
Itinerary Planning For Your Route 66 Road Trip
Route 66 is one of the most iconic highways in america stretching from chicago to santa monica covering a distance of over 2,400 miles. A road trip on route 66 is a dream come true for many people who seek adventure and a glimpse of the american past.
The journey offers a wide range of attractions, quirky roadside attractions, scenic panoramas, and unique experiences. If you're planning to drive route 66 anytime soon, here are some itinerary planning tips that can help you create a perfect trip plan, so pack your bags and get ready to hit the road!
Suggestions For Must-See Destinations And Attractions Along Route 66
The grand canyon: One of the most visited destinations in america, the grand canyon is a must-see attraction on route 66.
The cadillac ranch: This quirky roadside attraction in texas features ten graffiti-covered cadillac cars buried nose-down in the ground.
Route 66 drive-in theater: Catch a movie under the stars at the famous route 66 drive-in theater, located in springfield, missouri.
Petrified forest national park: Located in northeastern arizona, the petrified forest national park is home to ancient trees that have turned into stone over time.
How To Create A Customized Itinerary Based On Your Preferred Duration
Determine your trip duration: Depending on the time you have for your trip, you can plan your itinerary accordingly. You can either plan a one-week trip or a month-long adventure.
Choose your route 66 starting point: You can start your journey from either end of the highway, but most people prefer starting from chicago and driving to the west.
Pick your must-see destination: Select the attractions and destinations you want to visit depending on your interests.
Map out your route: Use a map to create a route that optimizes your time and resources.
Tips For Making The Most Of Your Trip And Experiencing All That Route 66 Has To Offer
Take your time: Route 66 is best experienced at a leisurely pace, so don't rush through the attractions. Take your time to explore and savor every moment of the journey.
Be open to new experiences: Route 66 is full of surprises, so be open to new experiences and enjoy the unexpected.
Interact with the locals: Route 66 is home to friendly and welcoming locals who are always eager to share their stories and experiences.
Try out local cuisine: Route 66 offers some of the best regional cuisines in america, so make a point of trying out local cuisine along the way.
Remember, planning your itinerary for your route 66 road trip is the key to a successful journey. Use these tips to create a memorable and unforgettable adventure along the historic highway. Have fun, stay safe, and enjoy the road!
Frequently Asked Questions For How Long Does It Take To Drive Route 66
How Long Does It Take To Drive Route 66 From Start To Finish?
The approximate time it takes to drive the entire route 66 from chicago to santa monica is about two to three weeks, depending on how many stops you make along the way. It is a distance of about 2,400 miles.
What Is The Best Time Of Year To Drive Route 66?
The best time to drive route 66 is from may to october. During these months, the weather is warm, and you're likely to encounter fewer weather-related issues, such as heavy rain and snow.
How Much Does It Cost To Travel Route 66?
The cost of traveling route 66 varies depending on factors, such as the length of your trip, the type of accommodation you choose and what activities you participate in. On average, you can expect to spend $150 to $200 per day, not including transportation to and from the route.
What Are The Must-See Attractions Along Route 66?
Some of the must-see attractions along route 66 include the cadillac ranch in texas, the gateway arch in missouri, the petrified forest national park in arizona, and the santa monica pier in california.
Can You Drive Route 66 In A Regular Car?
Yes, you can drive route 66 in any car that is roadworthy. While it's ideal to have a vehicle that can handle rough terrain, most of the route is on paved roads. Just make sure you have a spare tire and know where to find gas stations along the way.
Conclusion
After reading this article, you should have a good idea of how long it takes to travel route 66. However, the time it takes to drive this historic route may vary depending on your travel style, schedule, and interests. Consider the vast and varied landscapes you'll encounter on your journey, and the many unique attractions that await you along the way.
Whether you're an adventure seeker, nature lover, or history buff, route 66 has something for everyone. Don't forget to plan your trip thoughtfully and take into account any factors that could impact your travel time, such as traffic or weather conditions.
Above all, savor the experience and enjoy the journey along this iconic american road. Safe travels!